Specialist Paeony Propagators and Root Producers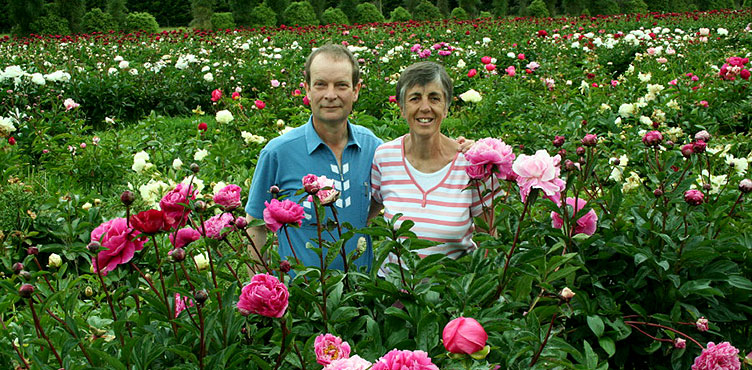 Welcome to Simmons Paeonies, and our autumn 2020 selection
Paul & Esther Simmons have been running a peony nursery since 1986. We are located on the outskirts of Christchurch, the main city of the South Island of New Zealand. Like all good business stories we started small, with 100 plants imported from USA, and have continued to grow! We now propagate all types of peonies including tree peonies, both for the garden market and commercial cut flower growers. However, please read the last paragraph!
In 2011 we started to propagate a large number of varieties of tree peonies. Limited numbers have now become available. All tree peonies we sell are established on their own roots which we believe to be superior to grafted plants, which is the most common way of growing tree peonies. Own root tree peonies seem to have more vigour, are more reliable and have less health problems than grafted plants.
For a number of years, as well as selling locally, we have been shipping peonies to many countries including USA, Canada, Eastern & Western Europe.
We are specialist root producers i.e. propagators of peonies. Although we do cut some flowers this is a minor part of the business and none of the plants used for cutting flowers is used for propagation. (This is to ensure maximum vigour and the best start for plants.)
Esther is in charge of the office, additional staff and organises packing and shipping, while Paul does most of the field work and all the root dividing. Paul's passion is herbaceous peony breeding, a slow but hopefully rewarding interest! Our aim is to give you high quality plants. We believe that we have built a reputation for this both here in New Zealand and overseas.
Sadly, because we are growing older, we have finally decided (October 2016) to start downsizing our business with a view to retirement. This does not mean we have stopped selling peonies but we have heavily reduced the range of Herbaceous and Intersectional varieties on offer from 2017. We have kept the most popular ones. We will continue to sell a full range of tree peonies. Order early as we may stop taking orders once we have reached as many as we can process.